Alejandro Reyes and Nabil Almoukri producer present tribute and recording reference to the flamenco singer Alfonso Salmeron by their 50 years of flamenco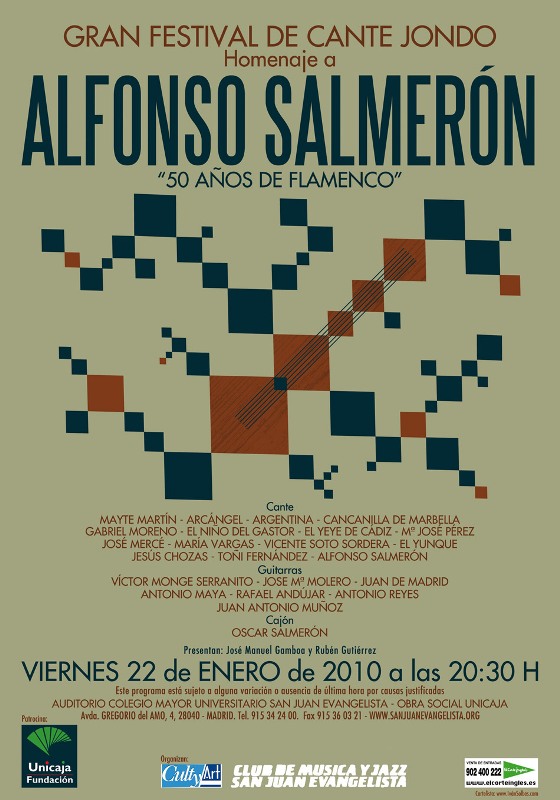 José Mercé, Archangel, Argentina, Vicente Soto deafness and Archangel are some of the artists who will perform tomorrow in the school greater Saint John the Evangelist to pay homage to Alfonso Salmeron Almeria singer when they met 50 his first professional performance years.

Salmerón (1944) It has always been, recalls the critic Marcos Escánez in the program prepared by the San Juan Evangelista, rigorous in the more orthodox songs and at the same time open to the "new shades" It would enrich his musical universe, reason why, for example, He has collaborated with José Carreras and Herbert von Karajan.
The tribute, underlines Escanez, ES "the confirmation of a great artist collective recognition" but also "the sample of admiration to the master, disinterested partner company and, above all, the affectionate hug" a "great person".
Salmerón began singing in Almeria with the Group "Goldfinches", He worked in the tablaos of Barcelona with the family "Habichuela" (Juan and Luis Carmona) and lives from the age 60 in Madrid, where she worked in all the rooms of flamenco.
The artists who accompany tomorrow Salmeron, She will also sing, are, In addition to Mercè, Archangel, Argentina and Soto deafness, Cancanilla of Marbella, Gabriel Moreno, The child of el Gastor, The Cadiz Yeye, Maria Jose Perez, The anvil, Jesus huts and Dennis Hissink.
The guitar will be Vicente Monge Serranito, José María Molero, Juan de Madrid, Antonio Maya, Rafael Andujar, Antonio Reyes and Juan Antonio Muñoz, and in the drawer Salmerón Oscar.
{phocagallery view = category|CategoryID = 3}
Share post: